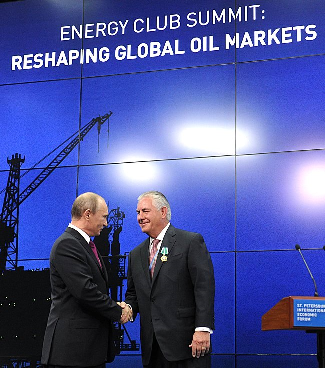 In the latest sign of the blur between the state and corporate power, the Senate on Wednesday confirmed Rex Tillerson, former chairman and CEO of Exxon Mobil – and recipient of the Russian Order of Friendship – as Secretary of State.
The vote was 56 for, 43 against.
The 43 votes against confirmation represent "the most in Senate history for a secretary of state, a reflection of Democratic unease with President Trump's early foreign policy pronouncements that threaten to upend a multilateral approach that has guided United States presidents since World War II," The New York Times reported.
"Mr. Trump's unapologetically nationalistic approach has put into question the value of many alliances and multilateral institutions."
"Mollifying allies infuriated by Mr. Trump's orders could be a full-time job."
"With operations on six continents, Exxon Mobil is in some ways a state within a state. As its chief executive, Mr. Tillerson struck deals with repressive governments — in at least one case, against the advice of the State Department. Environmentalists largely opposed his nomination."