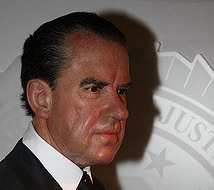 In an historic move, Republican President Donald Trump has fired FBI Director James Comey amid the bureau's ongoing investigation into the administration's ties to Russia, The Atlantic reports.
"The details are unlike anything that's happened in American history—it is only the second time an FBI director has been fired—but the contours of the firing have parallels. One name that keeps coming up: Richard Nixon."
"This is Nixon all over again…Lots of other presidents had tension with the FBI…but this is more Nixonian," said Julian Zelizer, a history professor at Princeton.
"Nixonian, he and others said, because of the brazenness of a president firing the FBI director at a time when the president's colleagues are under investigation by the FBI."