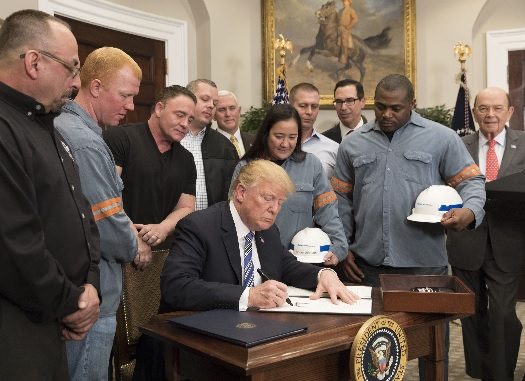 James K Galbraith: "On Thursday, Donald Trump announced a 25% tariff on steel and a 10% tariff on aluminum, likely excepting Canada and Mexico – and perhaps America's strategic partner Australia in due course. It was, of course, a shocking thing."
"So why did Trump do it? The reasons are obvious.
First reason: politics. It's March of Trump's midterm election year. He needs to be able to say he's delivered on his promises to American workers. Now he can say that.
Second reason: politics. There is a special election in western Pennsylvania on Tuesday, and it's widely believed that the Republican candidate is weak, in a district Trump carried by 20 points. The tariff announcement can't hurt with that one.
Third reason: also politics. Right on cue, Trump's enemies chimed in. The all-knowing economists. The Wall Street globalists. The financial press. It was a great instance of what the Brits call Project Fear."
"As the man from Vaudeville ran out on stage to announce: don't clap too loud, it's an old theater."